Susan's Retreat in the Press:
Retreat helps patients attack cancer
by Terri Unger (Ipswich Chronicle, 14 May 2009)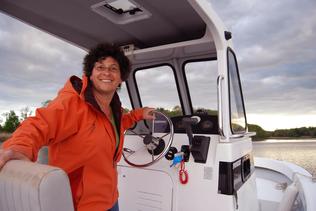 Terri Unger
Breast Cancer survivor Mary Capkanis will donate a trip on her boat to anyone participating in a fundraising walk for Susan's Retreat.
Ipswich -
How to help:
What: Fundraising walk for Susan's Retreat, a program for cancer patients
When: May 16, 10:30 a.m.
Where: Starting at Pavilion Beach parking lot
Goal: Each walk participant raises $100.
Distance: 3.4 miles
Information: Download registration & pledge form at www.susansretreat.org
As a breast cancer survivor, Mary Capkanis understands the challenges of staying afloat in rough waters.
Capkanis, a wildlife biologist and captain of Halcyon Waters maritime cruises, recently recovered from successful chemotherapy and radiation treatments and is now inspired to give back to others in similar situations through a program called Susan's Retreat.
The goal of Susan's Retreat, said executive director Maggie Steig, is to raise funds to send breast cancer patients on short retreats to give them a mental break from the day-to-day hardship of doctors' appointments, chemotherapy, and radiation.
The retreats aim to give the patient time for themselves — and a companion — away from the stresses of treatment and home responsibilities, in a setting of carefree comfort.
Founded in honor of the late Suzanne Nickerson, an Ipswich resident who died of breast cancer a few years ago, the program sponsors an annual fundraising walk to benefit Ipswich residents such as Capkanis, who will go on a retreat with her husband later this month. This year the walk will take place on Saturday, May 16th.
The past two walks yielded over $23,000 combined, and to date 22 women and their companions have been sent on retreat, benefiting from the restorative powers the trips offer.
Inspired by the vision of the program, Capkanis aims to give back by offering maritime cruises to anyone who participates in the walk this coming Saturday. She will take people aboard the Dragonfly, her maritime skiff, out from the Ipswich harbor for a day of relaxation and nature.
"I want to take people out on my boat in support of the walk and the spirit of Suzanne Nickerson and the work she did," Capkanis said.
During her battle with cancer Nickerson was grateful to have access to a place of natural beauty where she would go to clear her head and think positively and she wanted others to have that opportunity. She left a Giving Fund to accomplish that goal. Her end of life wish was to provide something pleasurable to women battling this dread disease, said her Web site.
"In her last days, Nickerson found solace in taking her boat out onto these waters," says Capkanis. "I can identify with this. All the threads in my life are morphing. The fond memories of being out on the water with my family and the great respect I have for the ocean have come full circle. A couple of years back when I was doing osprey and bald eagle counts in the Penobscot Bay, I recalled the feelings I had for being on the sea, how it brings me into nature and thus into myself. I decided to buy a boat and become a licensed charter boat captain, so that I can give others the experience of the peacefulness and tranquility of nature."
"My experience with cancer stripped me in many ways – all my hair fell out and I felt completely vulnerable – I was all humility. It reinforced my philosophy that nature is the answer to inner peace. It brings people into the moment, and into themselves; it does for me. I started Eco tours on my skiff out of love for nature and the sea, and it's evolved into helping others with cancer. The name of my business, Halcyon means in part, calm, peaceful, tranquil, happy, joyful, carefree."
"I really want people to learn to be intimate with nature and therefore with themselves, which I believe will lead to obliterating hatred and war."
(Reprinted from: http://www.wickedlocal.com/ipswich/homepage/x529242323/Retreat-helps-patients-attack-cancer, with permission.)