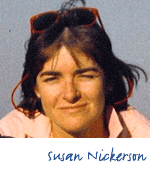 Welcome to Susan's Retreat. We are a non-profit foundation offering a unique form of cancer support.
Life in treatment as a breast cancer patient is a trial and challenge for every woman and man diagnosed with the disease. Day to day life becomes oriented towards battling illness, trying to make informed decisions, and coping with treatment while struggling to maintain quality of life.
Research has shown the benefits of relaxation for cancer patients, and the detrimental effects of stress on healing. Cancer depletes energy, optimism, and financial resources. Families watch their savings disappear and debts accrue, adding new sources of stress and eliminating opportunities to get away, relax, and regroup
Susan's Retreat provides that opportunity; we help our recipients to create a turning point in their treatment from which they gather strength and optimism, heal, and engage the spirit of hope.
Susan's Retreat is the legacy of Susan A. Nickerson, who wished to provide something pleasurable and uplifting to people battling this disease.